Learn Everything Needed to Start a Medical Marijuana Dispensary, Delivery or Collectively Grow Marijuana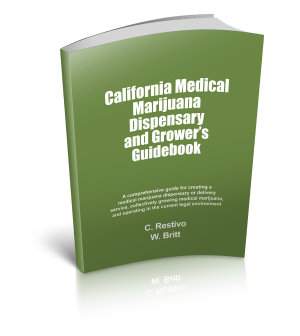 Contains the most current and accurate information available
Written by seasoned medical marijuana professionals
Nothing matches the quality and detail of this material GUARANTEED!!
All legal/incorporating documents included
---
California Medical Marijuana Dispensary and Grower's Guidebook
This guidebook provides current, comprehensive directions on how to form and operate a California medical marijuana collective, storefront dispensary and delivery service. The guide also provides information on how to legally grow medical marijuana and comply with all legal requirements as a medical marijuana patient in California. This book was written by seasoned medical marijuana experts, and there is no substitute of this quality available.
---
You will learn:
- What California business entities are required under SB 420
- How to incorporate as a not-for-profit
- How to remain compliant with the various state business requirements
- What is the ideal plant count and what is required to grow more than your personal limit
- How to determine what is "reasonable compensation" for employees and directors
- How to properly calculate growers' reimbursements
- How to set up internal controls, accounting and inventory tracking procedures
- How to properly price medical marijuana for members
Also included are sample membership agreements, bylaws and all other compliance documentation
---
No-Risk 100% Money Back Guarantee
We are so confident in our product that we will provide a 30 day 100% money back guarantee if you aren't satisfied.

Thank you for making this information affordable. I was able to start my collective quickly at a fraction of the cost I was expecting. I'm really grateful to you for this information – hence my email. C. Oxton – San Jose, CA

What I like about the Dispensary and Grower's guidebook is that I found it to be balanced. It does not encourage one to start a Medical Marijuana dispensary - It illustrates both the positives and negatives, while itemizing critical bullet points in an effort to educate the reader. An informed decision is what I believe we should all strive for in business and the author's have done a great job of providing the reader with the material to do so. W. Clark – North San Diego, CA

I recommend this book to all my MMJ clients (regardless of how long they have been in business). As an accountant that works with multiple collectives in Southern California, I know how important it is to comply with CA law. The manual provides many details you won't find elsewhere (including info on internal controls, exp reimbursements, and reasonable compensation). J. Ripley – N. Hollywood, CA.
Only $26.99 (eBook)

Hard Copies are available through Amazon.
Guarantee is not applicable for Amazon or discounted purchases.